From Malaysian seafood joints to old-school Chinese restaurants and elegant French-style cuisine, Kuala Lumpur's dining scene will delight visitors with its diversity and dedication to excellence.
With 14 years in the Kuala Lumpur restaurant business, the formidable and successful Jenifer Kuah is a force to be reckoned with. In 2013, a chance meeting with visiting Scottish chef Christian Recomio, who is also the co-owner of Moonfish Café in Aberdeen, led to them opening Sitka restaurant in 2014, followed by Sitka Studio in 2016. Both restaurants are leaders in the scene, with Sitka serving casual, modern Asian food; and the award-winning, hard-to-get-into Studio dishing up contemporary tasting menus driven by local produce.
"Kuala Lumpur, and in fact Malaysia, is a melting pot of cultures and cuisines," shares Jenifer. "Beyond Malay, Malaysian-Chinese and Indian food (northern and southern), you will easily find decent French, Italian, Syrian, Thai, Sri Lankan food and more – conversations here begin and revolve around food."
Kuala Lumpur-based writer Aja Ng spoke to Jenifer and Christian for their recommendations of the top restaurants to dine (and take visitors to) in Kuala Lumpur.
Oversea Restaurant
Many deem Oversea the best Chinese restaurant in Kuala Lumpur, and for good reason. The restaurant has expanded throughout the years – first in size, then by branching out to different parts of the country. "It is known for its consistently delicious char siu (caramelised barbecued pork)," says Christian. Other must-order dishes include the ham yue fah lam poh (sliced pork belly braised until tender with salted fish and soy), steamed silver catfish and stir-fried lily bulbs with lotus roots and macadamia nuts. Dishes are normally accompanied with steamed rice and served family-style in the semi-casual dining room. "It's great for a welcome feast in this city," he adds.
Bala's Banana Leaf
Having a "banana leaf" lunch is a unique and enjoyable experience in Kuala Lumpur, and for this Jenifer and Christian recommend Bala's. A large piece of banana leaf is placed in front of each guest, acting as their plate; then servers come around with vegetables – spinach, cucumber with yoghurt, beetroot with mustard seeds – after this, they serve curries – lentils, fish, chicken and crab – filling up the 'plate' and finishing it off with a steaming mound of basmati rice. Succulent, deep-fried, turmeric-coated squid, pomfret, mullet or mackerel are also available for ordering, as well as mutton varuval, crispy pappadam and fried bitter gourd. The casual restaurant is spacious and well-ventilated, ideal for a hot curry lunch in these climes.
Kedai Makanan Nam Chun
"For a true Malaysian breakfast, brunch or lunch we always take our friends to this kopitiam (casual local coffee shop with a collection of food hawkers) in Lucky Gardens. The diversity of food here, freshly cooked and so affordable, is mind-blowing," explains Jenifer. Hainanese chicken rice, char kway teow (a national favourite stir-fry) and wan tan mee (Malaysian wonton noodles) are each sold by specialist vendors, but make a beeline for the pork noodles at the very back. A hearty bowl brimming with broth and minced meatballs, sliced pork, kidney, liver, leafy mustard greens and a poached egg is served, alongside a bowl of kon-loh (dry flat rice noodles), tossed in soy sauce and gleaming with golden bits of lard and garlic. The combination is delicious and warming – the ultimate comfort food.
Entier at Alila Bangsar
"[Some of] the city's food establishments are as basic as they come, serving food bursting with flavours in a zero-frills setting. At the other end of the spectrum sits Entier, on the 41st floor of the Alila hotel," states Christian. The restaurant is elegant, yet relaxed and bright, serving guests French-style nose-to-tail feasts with great views of the city skyline from its vantage point in Bangsar. "It's good for a classy night out," says Christian. A glass of Bordeaux from the extensive wine menu will start you off, before you move on to dishes such as the duck head pâté, ox tongue and flank, and Josper-grilled whole turbot with raspberry butter. Chef Masashi Horiuchi, who hails from Fukuoka, Japan, was sous-chef at the Michelin-starred L'Atelier de Joël Robuchon in London for five years before leading the kitchen at Entier since its 2018 opening.
Yung Kee Beef Noodles
"After a night out, one might crave some comfort food the following day to recoup, and that's when Albert Lai's delicious Hong Kong-style noodle bowls will restore you," introduces Jenifer. Operating out of a modest air-conditioned shop in Pudu, Albert serves meltingly tender cuts of beef, such as brisket, tendon and honeycomb tripe in a beefy broth over rice noodles – the barest sprinkling of pepper and sliced spring onions complete each bowl. Australian wagyu and prime US beef are also on offer, for those handful of lucky patrons whom Albert deigns to offer them to (or dare to ask yourself)
Sushi Azabu
"Malaysians love Japanese food," says Jenifer. "While there are countless restaurants touting large menus of Japan's 'greatest hits', there is an increasing number of specialist ones – from ramen to sushi, tempura and yakitori." Christian and Jenifer would choose Sushi Azabu, an offshoot of the Michelin-starred restaurant of the same name in New York, for an indulgent omakase (the tradition of letting the chef choose your order) meal in Kuala Lumpur. The intimate, wood-panelled restaurant is refined, and serves courses of seasonal Japanese produce, from Hokkaido scallops to swordfish, flounder, big-eyed snapper, sea urchin and the sweetest prawns, in a multi-course meal of the chef's choosing, featuring appetisers, sashimi, sushi and hot and cold dishes.
Bak Kut Teh at Restoran Shangri-La
Late-night eating is part of the Malaysian food psyche, and for this the Bak Kut Teh at Restoran Shangri-La in Damansara Heights always hits the spot. "Bak kut teh translates as 'meat bone tea,'" explains Christian. "It consists of tender cuts of pork, pork meatballs, mushrooms and beancurd simmered in a broth, layered with Chinese roots and herbs, then served with crispy, deep-fried crullers and steamed rice – it's beautiful!" Restoran Shangri-La is a casual, updated 'coffee shop' on Jalan Batai, where 30-year-old shop lots recently received a facelift and an injection of exciting new tenants.
Pizzeria Dihyang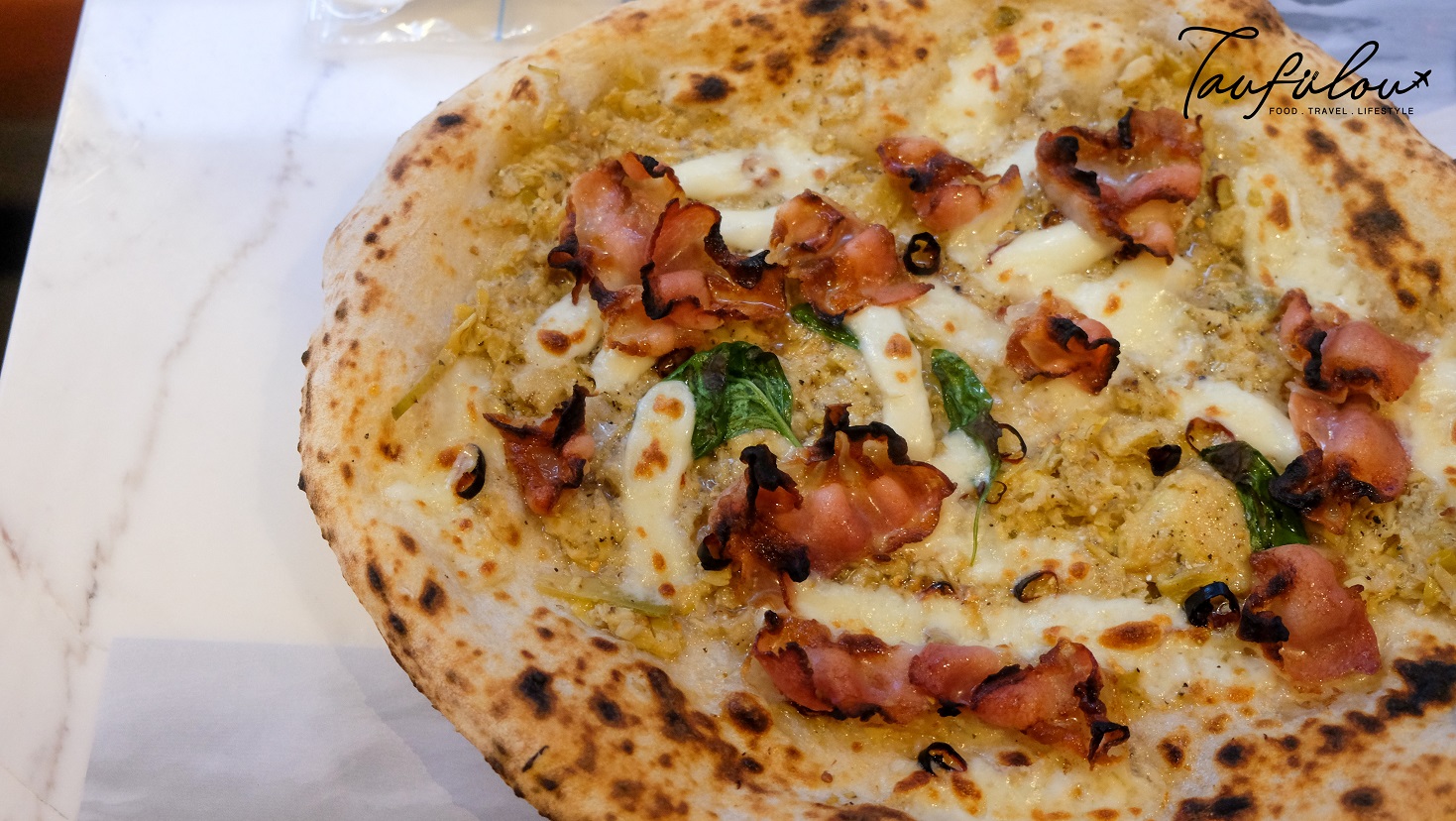 "Good pizza is one of life's greatest pleasures," says Christian. Both he and Jenifer admire the passion which Yee Dihyang displays at this artisanal pizzeria, the only one in the country approved by the Associazione Verace Pizza Napoletana. The restaurant has gained many detractors for its rigid stance in telling customers that they must neither adulterate nor cut the pizzas, but at the same time, many such as Christian and Jenifer respect its commitment to tradition. The modern pizzeria is sleek, bright and welcoming, dominated by the yellow-tiled wood-burning oven on the opposing wall of the entrance. What to eat? Margherita, of course!
Capital Café
Open since 1956, Capital Café serves nasi padang, a pork-free rice meal originating from Indonesia. You select from a slew of pre-cooked dishes such as ayam kalio (chicken cooked in coconut milk, garlic, lemongrass and turmeric), dendeng (thinly sliced beef with fragrant spices), sambal stuffed fish and petai (stink beans), to eat with steamed rice. "The flavours are redolent of local herbs and spices, cooked the Minangkabau (an ethnic Malay group from West Sumatra, Indonesia) way, localised when they moved to Malaysia." The restaurant gets very busy for lunch, when workers from nearby offices flood the place, alongside tourists looking for a yummy Malay meal.